uTrader Review – No Longer Available – Choose from our Related Binary Brokers
The uTrader Binary Options Broker was initially established in the year 2011. Since its establishment it has been working as a firm to be able to effectively as well as securely fulfill the needs of their clients. Throughout the years uTrader has been able to build a reputation based on goodwill, as well as reliability within the world of thousands of Binary option brokers.
Trading Platform
SpotOption is what provides the main platform under which all sorts of trading take place in uTrader. SpotOption is categorized as being one of the top software developed and released for the purpose of trading because of which many consider uTrader to be a reliable source and not a fraud or a scam. Offering up to a whooping profit of 85% the uTrader Binary Options Broker, can be used through the internet without any additional need or requirement to download software or other such associated options.
For those of whom however are registered users with uTrader Binary Options Broker and wish to stay updated throughout the 24-hours of a day can easily download the application for uTrader onto their mobile or smartphones. The uTrader application is compatible for both Android as well as Apple users providing its users with news and updates on a daily twenty-four-hour basis.
Advanced Features Offered
Besides the traditional features which are offered by uTrader Binary Options, advanced and further upgraded features are also availed by registered account holders. A vast number of material to be used for educational purposes and training in Binary option trading can be provided per request by Customer support agents as well as found on uTrader's official website. The basics as well as training tips being provided in the form of V.O.D as well as e-book lessons increase the level of ease felt during accessibility by the registered users.
Packages and Bonus Offers
Starter Package: The Starter package offers an eBook as well as an educational video pertaining on the basics of Binary options. A deposit bonus of up to 30% is also offered as bonus for this particular package.
Advanced Package: Under the category of the advanced package, uTrader offers an astonishing 50% bonus along with the option to create a trading plan with help of an analyst. The advanced package is available between $500-1,000 worth of deposits.
Pro Package: Utilizing the Pro package involves the benefit of an integrated trading advisor along with the bonus of a complete 100%.
VIP Package: The VIP package includes all the prior mentioned perks provided by the starter, advanced as well as pro packages. Alongside with the amazing perks, a whooping deposit bonus of up to 120% is also offered via uTrader Binary options.
Risk Management: One particularly unique advantage of utilizing uTrader Binary Options as a choice of broker is due to its feature pertaining to risk management, the returns as well as predicted risks regarding a particular trade are clearly mentioned. The mentioned returns as well as risks of a transaction can then be carefully evaluated and analyzed by the registered users of uTrader Binary Options before placing their final decision, therefore minimizing the risks of loss by a substantial amount.
Our uTrader Binary Gallery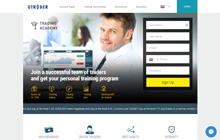 uTrader Homepage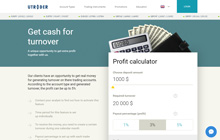 Promotions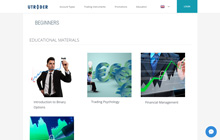 uTrader Education
Customer Support Services
Due to its vast size and thousands of registered users, uTrader Binary options provides customer support and aiding service everyday on a twenty-four-hour basis. Support can be provided by a variety of ways, such as live chat, Skype and even through the phones. Registered users or potential clients can choose a medium of support whichever suits them best personally.
Professional advice can also be searched from uTrader trained analysts pertaining to matters such as the type of trading portfolio, trading strategies which suit a particular account holder best, trading goals as well as objects. The advice is carefully provided once the analyst thoroughly evaluates the trading transactional history of the user. Not all registered account holders at uTrader Binary options however, are entitled to utilize this particular feature. Specific requirements need to be met by account holders to avail this helpful feature.
Deposit and Withdrawal
For attaining the optimum level of security for registered account holders of uTrader Binary options, deposits and withdrawals are taking place via the safest methods. They include Visa credit/debit cards, MasterCard, OkayPay, Skrill, WebMoney, Moneynet.int as well as Neteller. Each of the above mentioned, however, are subject to deposit and withdrawal fee deduction.
Conclusion
uTrader Binary options can be considered as a reliable and effective source of earning profit through carrying out trade transactions. Therefore, it is safe to be used by those interested in Binary Options.
Other Popular Binary Options Broker Reviews