Easy Markets Review – Leaders in Online Forex Trading since 2003
Easy Markets Forex was founded in 2003 (previously known as Easy Forex) and have its headquarters in the Marshall Islands. They have two other offices one in Greece to cover the EU and they also have one office in Sydney, Australia to cover the Asia Pacific region. It is one of the first trading platforms for Forex but they also trade in other commodities such as metals, energy commodities, agricultural commodities and indices.
Click here and get up to $2,000 reward at EasyMarkets now!
Types of Accounts
Registering with Easy Markets is done through their website. The registration process is quite simple and before you are able to start trading you will be asked to deposit funds after you have filled in all the necessary information that they require. Filling the necessary forms is part of the registering process.
Software Overview
They use two platforms – the Easy Markets one and the Easy Markets MT4 platform. Both the platforms are available on mobile, tablet and computer.
The EasyMarkets platform has a facility where you are able to cancel deals within an hour and recover your losses. It also allows FX trading online with trade vanilla options online.
The Easy Markets MT4 platform allows you to trade spot Forex with MT4 options on CFDs in MT4.
Both these platforms are supported by Easy Markets with an education center. The education center trains the clients through training videos, in various topics and ensuring that they get the best tools available.
There are also training eBooks and Easy Markets have split them into 3 categories. The first category is the basics of trading and covers getting started, learn analyses, trading psychology and 10 shocking lessons. The second category covers MT4 trading, the first book being MT4 users guide, MT4 options and CFDs and the third book covers trading central. The third category covers 4 sections and covers all the topics for options trading.
In the education section of the website they have added FAQs for their clients to use so that they are able to get answers quickly if the problem they are facing is a common one. There is also a Forex info blog which covers what is happening globally and gives the clients an insight on trends and new developments.
They like most Forex trading companies have a free trading simulator for clients to work on their platforms. They also have an affiliate program which if you choose to join, the account manager and you will be able to discuss your personal income plan. The affiliate program covers spread share, CPL, Lot rebates, CPA plans and has a 2nd tier system.
Our Easy Markets Forex Gallery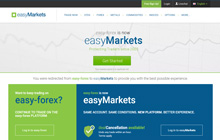 Easy Markets Homepage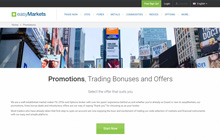 Promotions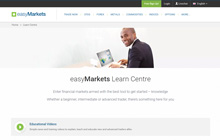 EasyMarkets Learn Centre
Deposits and Withdrawals
Easy Markets accepts all the major bank's credit or debit cards. They will also do money transfers but these can take between 3-7 days depending on which country you live. It is also possible to use e-wallets such as Skrill, Yemedai or WebMoney. These are few examples because there is a full list of which organization EasyMarkets trade with.
All the transaction are free and there are no commissions charged on deposits or withdrawals.
Customer Support
The customer support center is by telephone, fax or by email. There is a chat option but that is privileged to clients only.
Safety and Regulation
The company has been operating since 2003 and is licensed by the Cyprus Securities and Exchange Commission and the license number is 079/09. It is passported by the EU by the MiFID Directive and in Australia by ASIC. Easy Markets Pty Ltd AFS license number is 246566.
The funds from the clients are kept completely separate from the operating funds and Easy Markets ensure that they have enough liquid capital to cover all the client's deposits.
Easy Markets has two systems in place to make sure that the client does not suffer losses when trading, they have a stop loss feature. With fixed spreads, there is a negative balance protection so that client can only lose the funds that he or she invested.
Overall Conclusion
Easy Markets have been in the trading market for 13 years and have vast experience with a very good training platform. The platforms they offer are very easy to use and they have built-in protection systems so that the client only loses the funds that have invested. They also have a deal cancellation which will prevent losses in case the client has made a mistake and would like to withdraw from the actual deal. This again protects the client from making losses. They have developed over the 13 years and have all the necessary features in place for trading whether it be in Forex or other commodities.
Other Popular Forex Broker Reviews