Our Comprehensive IronFX Review
The IronFX Forex broker is a partner with FCB Barcelona. It operates with the authorization of the CySEC as IronFX Global Limited. IronFX is part of the 8Safe UK Limited group, who also has the necessary permissions to work.
Click here and start trading at IronFX now!
Types of Accounts
There are three main types of accounts to trade Forex: Micro, Premium, and VIP. The micro and premium are very similar. You can trade in USD, EUR, GBP, AUD, JPY, CHF, PLN, RUB, HUF, and CZK. The VIP account allows you to trade in USD only and requires a minimum deposit of 20 thousand dollars.
The difference between accounts has to do with the minimum deposit and your minimum lot size. You can start a Micro account with $100 and a minimum lot size of 0.01. With a premium account, you would need $2,500, and you would get a minimum lot size of 0.1. None of these accounts has a commission attached to it.
Other accounts for individuals include SP/ECN Account, Zero Fixed Spread Account, and Mirror Account. If you are building a trading business, then you can use an affiliate account, affiliate plus account, business account or managed accounts.
Software Overview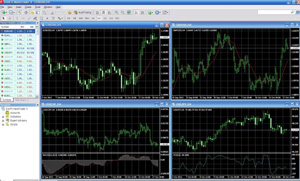 There are four different trading platforms. According to your needs, you may choose your preferred software using the same IronFX account. First of all, it is the Web Trader 4. That is the easiest way to get started because you don't have to do any installation. All you need is your web browser and a valid account.
When you want to manage multiple accounts, there is the PMAM software for PC. That will let you add different accounts and manage all of them from the same place. Then, there is the MT4 software, which is a more advanced trading platform compatible with PC, Mac, mobiles, and tablets. There are ways to configure the MT4 to trade for you. Or you can also make use of the Auto Trades application on the Web. That way you don't have to do another installation.
All your trading options with IronFX are intuitive and versatile. You can accommodate your graphs any way you want with the desktop application. The online software options have a fixed design, but it is useful and intuitive, so for most traders, that is all you'll need.
IronFX has educational videos and the Forex eBook to help you learning everything about Forex. There are webinars, seminars, and expos organized by IronFX. Once you master Forex, you can try some other trading products like metals, indices, commodities, futures, and shares.
Our IronFX Forex Gallery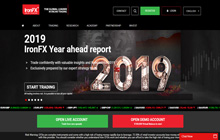 IronFX Homepage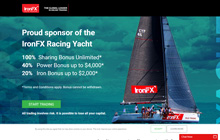 Promotions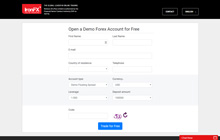 Demo Account
Deposits and Withdrawal Services
You may fund or withdraw from your IronFX account via your credit or debit card, bank wire, Skrill, Neteller, fast pay, China Union, DotPay or MOTO. Depending on which you chose there is a different fee and other restrictions.
DotPay is the only method with no fees and limitations. Visa and MasterCard are the most commonly used. There is no deposit fee with them, and the restriction is that you cannot do transactions over 5 thousand dollars. As for withdrawing fees, there is a 1.5 EUR charge per transaction.
You have to comply with current regulations, sending the broker a proof of identity. Otherwise, you will not be able to ask for withdrawal.
As for cash, there is no way you can make a direct deposit to an IronFX account.
Customer Support
There is a local toll-free number available in Brazil, China, the Czech Republic, Germany, India, Japan, Korea, Poland, Portugal, South Africa, Spain and the United Kingdom.
You can also send an email to support@IronFX.com. If you prefer it, when you call in a busy day you can request a call back instead of waiting for support. That is a very useful feature when you don't like to wait.
Safety and Regulation
IronFX Global Limited is regulated and authorized to do Forex trading by CySEC under the license number 125/10. As part of the 8Safe UK Limited group, other relevant authorizations affect IronFX. It operates with permission of the Financial Conduct Authority with the FCA license number 585561.
Overall Conclusion
IronFX has the most software options for trading and many account options for individuals or to do business. You can handle multiple accounts from their platforms. The option to have automated trading tools for Forex is also important.
For the countries where they have local customer support, it is a more reliable broker. We are not saying this because it is not entitled to accept users from other places, but because you can get a resolution to a problem in an easier way.
Finally, it is important to emphasize that IronFX is engaged with the clients. They have implemented an excellent help desk with a call back option that will take care of your most valuable asset: your time.
Other Popular Forex Broker Reviews