Capex Review is Not Verified – Choose from our Reliable Forex Brokers
Scouring through the maze of the foreign exchange market (Forex), searching for the best and most reliable broker can be as time consuming as it can wear you down easily given that most firms in this category present similar features and promise almost the same things.
In that regard, Capex Forex Broker has distinguished itself and proven to be one of the top brokerage firms in Europe. The following explains why that is so.
The Faces Behind the Platform
Added to the incredible talent working behind the scenes to ensure that traders have it easy and rewarding using their state-of-the-art trading platforms, the superb organizational structures put in place guarantees that there is synergy between the broker and the trader at all times.
But beyond providing week days' live trading services, the company also offers individuals and corporations unprecedented opportunities to team up as partners. As a partner, one gets far more than just a trading platform, partners get complete backup technical support, analysis tools, personalized packages, and lots more.
Sophisticated Trading Platforms
As every Forex trader knows, the difference between failure and success could lie in a split second delay during execution of positions. Cracking this flaw is what places Capex on a high pedestal. From its custom WebTrader to the famous MetaTrader platform, clients are spoilt for choice depending on their daily lifestyle.
The outdoors kind of person would certainly love the MetaTrader 5 mobile app. This multi-functional app (which can be accessed on a desktop too) is as flexible and convenient as it is sleek and comfortable, irrespective of your level of experience.
Capex's custom WebTrader is in a class of its own. The analytics built into it means you have multiple configurable indicators and as many as three chart styles (candlesticks, bars, and lines). Users have come to fall in love with the Negative Balance Protection features also, saving them heartaches during drawdowns.
The beautifully designed interface also comes with as many as 2,100 instruments to choose from, ranging from Stocks to Forex, Commodities, Indices, Bonds, Crypto currencies, and ETFs. All these can be accessed on tablets, mobile, or desktop, 24/5.
Capex Packs Amazing Features to Make You a Better Trader
Whether you choose the web-based platform or MetaTrader 5, you would still get real-time symbol quotes and the most relevant financial news updated multiple times daily. Traders also enjoy as many as 90 technical indicators which work seamlessly with a variety of timeframes and price charts. With two execution modes and four order types (Buy Stop, Buy Limit, Sell Stop and Sell Limit), the trader is in total control of when and how to trade the thousands of instruments available.
Android or iOS, these trading platforms work perfectly and automatically in sync with other devices that you have logged in to prior. It does not matter whether you are a beginner or not, Capex's Academy is packed with multiple lessons and videos that would come in handy. For newbies, though, this feature is crucial because it's loaded with the essential videos and lessons covering every aspect of becoming a successful trader.
Very importantly also is the Economic Calendar that helps traders know when to expect big finance-related news and how these outcomes would affect whole economies – and in extension, the fundamental and technical impacts that drives the currency pairs.
Our Capex Forex Gallery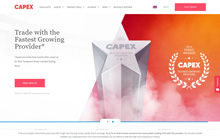 Homepage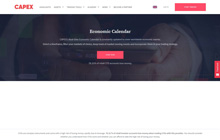 Economic Calendar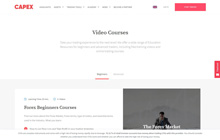 Video Courses
Deposits and Withdrawals
A good Forex broker is one that provides multiple options to deposit and withdraw funds easily – and that's what Capex is all about. Traders from all over the world can use trusted and reliable funds transfer channels like Visa, Skrill, Neteller, Maestro, MasterCard, and Trustly to both deposit and withdraw funds – all at the click of a button.
Capex is Highly Regulated and Thus Plays by the Rules
Cyprus is gradually becoming Europe's Forex capital and Capex is well at home in that tiny but powerful nation. It is no surprise, then, that multiple agencies (in Cyprus and Europe, in general) watch over the activities of the company and how it protects clients' funds.
Capex is regulated by the Cyprus Securities and Exchange Commission (CySEC), the Financial Conduct Authority (FCA), the Polish Financial Oversight Commission (KNF), the Federal Financial Supervisory Authority (BAFIN), and the National Securities Market Commission (CNMV).
It is clear; clients' funds are absolutely safe and protected!
Support and Customer Relations
As a broker that handles thousands of accounts from all over the world, Capex operates a state-of-the-art Live Chat channel with 24/5 presence to resolve all issues promptly. Clients also get to enjoy free calls.
The Customer Relations department based in Nicosia only needs a phone number, a complaint ticket, an email address, a preferred time and date, and a name, to ring back potential and existing customers who may have reason to use the option. Either through email, phone, or fax, Capex's response time is amazingly swift.
Conclusion
It is evident, then, that Capex Forex Broker has got it all covered. With such sophistication, yet simplicity, such amazing customer relations services, yet incredible technical features, traders are guaranteed the very best of forex trading experience.
Other Popular Forex Broker Reviews