TradeFred Forex Review is Not Verified – Choose from our Reliable Forex Brokers
Established in 2016, TradeFred is a leading trading platform for CFD instruments globally. It is a multinational company and provides customer-focused services in multiple languages. TradeFred is a part of MagicPath Capital and is regulated by the Vanuatu Financial Services Commission (VFSC) which reinforce the highest standards of corporate governance and financial reporting. You get to trade across 6 different asset classes with more than 150 instruments to trade in. TradeFred has been recognized and rewarded for its performance. It has received the Best newcomer- ADVFN International Financial Awards 2018, and the Newcomer of the year-UK Forex Awards 2018.
Asset Classes Offered
You get a wide range of trading opportunities with TradeFred. You can choose to trade across different asset classes including Forex, stocks, indices, precious metals, energies, and cryptocurrency. You also have a choice of more than 150 instruments across these asset classes to trade in.
Trading Accounts
You get choices of varied user accounts when trading with TradeFred. The Basic account is perfect for new and first-time traders as you can start your trading with a small deposit of $250. You get a leverage of 1.50 and minimum lot size of 0.01. Basic account also gives you a dedicated accounts manager and you can make withdrawals within 1 business day. The Standard account gives you all the features of the Basic account and in addition, also provides you market-leading analysis. The Advanced trading account is offered to customers with slightly more experience and skills in trading. You will need to make a minimum deposit of $1000. You get a leverage of 1.50 and minimum lot size of 0.01. You can make withdrawals in 1 business day. Advance account ensures you get notifications on your mobile and additional trade signals.
The Pro account is one of the VIP accounts offered by TradeFred. You need to make a deposit of $5,000 and in return, you get a leverage of 1.50 and minimum trading lot of 0.01. You are entitled to lower spreads exclusive only to the VIP customers and also access specialist market analysis. For high-volume traders and institutional investors, TradeFred offers its Premium trading account. The minimum deposit is $10,000 along with all the other features offered by Pro account. There is also a unique Islamic account offered by the company which is compliant to the Sharia law. This account does not allow trading in any instrument which is prohibited by the Islamic law. This is a commission free account and trading is done on the basis of known costs, thereby removing any scope for speculation.
Trading Platform
Trading platforms offered by TradeFred are exclusively designed to meet the needs of different types of traders. They use the Metatrader 4 platform which is used by the traders world over. It allows you to execute your trades instantly with high degree of security and reliability. The MetatTader 4 trading platform can be accessed over the desktop or mobile platforms. The desktop variant of MetaTrader 4 is known as Desktop trader. It provides intensive customer support and the flexibility of trading Forex and CFDs on one screen. You also get access to rich educational and market analysis resources with this trading platform. Webtrader is the range of MetaTrader 4 web browsers and is compatible with PC and Mac. You can access the trading platform from any computer using Webtrader. Mobile trader is mobile variant of MetaTrader 4 trading platform. You can access the trading platform from anywhere in the world on the go. Mobile trader is offered for both Android and iOS. You get access to interactive charts and your full trading history using the Mobile trader trading platform.
Our TradeFred Forex Gallery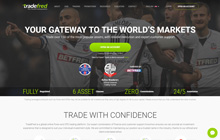 Homepage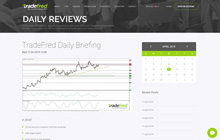 Promotions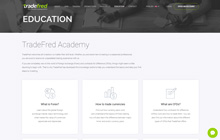 TradeFred Academy
Social Trading
Social trading is a new and unique offering from TradeFred. The clients can form a community and share their trading tips and best practices with other traders. This helps the new traders to immensely as they learn the trading style and best practices of the experienced and successful traders. Social trading protects the anonymity of the client as you are not required to share your account details or any other sensitive personal data. Novice traders can use the copy trading feature to replicate the open positions of successful traders, which improves their chances of executing successful and profitable trades. Social trading also lets the traders to effectively hedge their risks by allocating their capital among different traders and other markets and benefit from diversification. TradeFred takes special care in screening of clients before they can join the community and give their inputs to other traders. The clients have to undergo an aptitude test which assesses their suitability for social trading. This ensures that the traders are not exposed to overly aggressive clients. The experienced traders who are open to get their trade copied, are also selected after careful and judicious shortlisting process. The comprehensive selection process of clients goes a long way towards protecting the interests of the traders.
Why Choose TradeFred?
TradeFred is a popular CFD trading platform which offers excellent security and reliability to its customers. Entire trading process is automated on TradeFred, which eliminates any chances of errors due to manual workings. They offer customers different types of trading account to ensure they meet the specific needs of different types of customers. They also provide you a free demo for 14 days and a rich library of online resources. You can start trading Forex and CFD instruments by making deposits as small as $250. The trading platform offered by TradeFred is automated and loaded with excellent features to help you make informed trading decisions. The trading platform also provides highly reliable trade execution and order completion instantly. The trade execution rate is also foolproof. The company also values its customer's money and security. It holds the client's funds and assets with the top banks and they are kept completely segregated with the assets of TradeFred. Customers can get quicker access to their funds in 5 business days. The company provides different deposits and withdrawal options like bank transfer, broker to broker transfer, WebMoney, Qiwi, Skrill, Neteller etc. TradeFred also provides you dedicated customer support in multiple languages for resolving any technical issues.
Other Popular Forex Broker Reviews
*Trading CFDs involves a significant risk of loss and is not suitable for all investors!