Plus500 Review is Not Verified – Choose from our Reliable Forex Brokers
As an online broker service, focused on the Forex market, Plus500UK Ltd is checked and authorized by the British Financial Conduct Authority (FCA). The company also has its main offices in Israel, and is registered as "Plus500 LTD". Plus500 Ltd operates through subsidiaries – one of which is Plus500UK Ltd. and it is based in London, United Kingdom.
There are two options to choose from when making your account at Plus500. The demo account is very suitable for beginners. It comes absolutely free of charge, without any limitations. For more experienced users there is the live account, which comes at an initial price of £100, in the form of a Plus500 minimum deposit.
Listed on the London Stock Exchange
Plus500 Ltd is listed on the Main Market of the London Stock Exchange.
Software Overview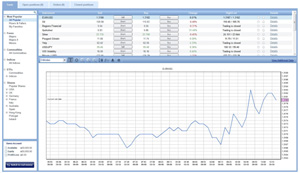 The software offered to users by this website is regarded as an excellent, simple and easy to use tool. The clients are getting a practical trading platform which also comes with a simple to use program, designed for making technical analysis. A trader with a Plus500 account can trade CFDs on Forex, Stocks, Commodities, Options and Indices. Plenty of options are available, making this a multi-faceted broker service.
Another great commodity of Plus500 is the simple, yet highly effective trading screen. Everything is clearly visible, including past trades, as well as options for multiple market trading.
The platform is also fully equipped with multiple technical analysis tools as well as real time price feeds. A detailed charting software is also easily accessible to go along with the trading platform.
Plus500 is also following all of the latest trends and hence the support for this website comes for all platforms, including Windows, iOS, Android, and even for Apple Watch. There is even a browser version, for users looking to access the platform from any other device.
Deposits and Withdrawal Services
There are many options available for these services as well, such as credit card, Skrill or a simple wire transfer. Of course, the fastest methods would be either Visa or MasterCard, but funding it through Skrill is very simple as well. The wire transfer deposits are also simple, but they might take almost a week to complete, making it less effective than other methods.
Plus500 is also careful about customer security, and requires its users to upload a photo from an official document, and to confirm the registered address. Only upon completing this, you can withdraw money. Needless to say, all of the information you provide is secured and will not be shared with anyone.
Our Plus500 Forex Gallery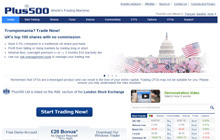 Plus500 Homepage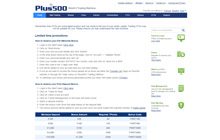 Promotions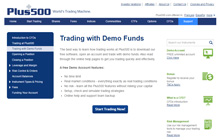 Plus500 Demo Account
Customer Support
Being one of the most important services for every website, customer support is another top notch element of Plus500. They offer multi-lingual email support, to go along with an online chat, available for everyone looking to get quick help. If, somehow, the chat is not active, there is an easily accessible "contact us" form as well. One flaw is the lack of telephone support, which can lead to issues if the customer loses internet access, and is unable to contact the support in any other way. Regardless of this, the customer support on Plus500 is of great quality, evident by the numerous positive customer reviews.
Safety and Regulation
Plus500UK Ltd is authorised and regulated by the British Financial Conduct Authority, with a registration number #509909, so it is verified and safe to work with. Plus500CY LTD is also authorised and regulated by the Cyprus Securities and Exchange Commission (Licence No. 250/14). Plus500AU Pty Ltd (ACN 153301681), licensed by: ASIC in Australia, AFSL #417727, FMA in New Zealand, FSP #486026; Authorised Financial Services Provider in South Africa, FSP #47546.
Overall Conclusion
The verdict for this CFD broker platform is very simple: an excellent, highly recommended choice for brokers operating outside of the United States, Plus500 is a user friendly, simple, easy to use trading platform, capable of delivering quality, secure, precise service with many different assets. Suitable for experienced traders, it is also newbie-friendly as it offers a free for life Plus500 demo account and a high quality 24-hour customer support, as well as multi language support, making it suitable for non-English users too. The company also offers excellent rewards for funding and the option to integrate trades in other financial markets.
Some drawbacks such as the lack of telephone support service and the fact that the platform is not available in the United States are present, but the many qualities of this company, far outweigh this.
As an acclaimed platform, authorized by the British Financial Conduct Authority (FCA), rest assured that using Plus500 will bring you nothing but satisfaction and security, evident by the many positive client feedbacks.
Other Popular Forex Broker Reviews