BinaryMate Broker – Introduction and History
BinaryMate is a unique as well as new options for binary trading platforms. This broker, is recommended as the effective one which you have been searching for your business.
Lerona Impex SA who also possesses and runs Finpari, located in Seychelles headquarter, is a legit owner who also runs this Binary Mate platform. After it was founded in 2015 by its engineers, they created a kind of reaction from the business people basing on their requests. BinaryMate has been offering trading contests based on the binary options along with diverse knowledge to assist them to succeed in the trading world. As Lerona Impex SA Seychelles founded this platform, their ambition was to develop a unique as well as trader friendly options in the binary systems. Through the founder's effort, Binary Mate has been able to meet those standards.
Click here and get up to 100% Welcome Bonus now!
Trading Platforms and Features
BinaryMate has key features which have been attracting numerous investors into their platform. They are:
Representatives of the customer service body, offer the Binary Mate clients with a live video chat in case one is in need their help. The assistants are always available to offer assistance to clients in case they need to inquire something as well as an introduction in a particular feature of Binary options.
Clients are offered a one-hour withdrawals which is a unique service and could be rarely found at other brokers. Withdrawals can be completed within one hour which is effective as compared to others which need about three to five days.
Promotions and Bonuses
Bonuses offered by this specific broker are displayed on the list of features which varies basing on the type of the account. The Bronze one offers 20% bonus to their clients when they signup, live video chat, 1-hour withdrawal time as well as a demo account. The Silver account is comparatively higher as compared to the previous one. This account offers a minimal deposit of $1,000, live video chat, quick withdrawal (one hour), 50% bonus, master class, the first three trades are free from risks, and lastly, they offer a Demo account. The Gold account offers a 100% bonus. It is the utmost account, because here you are offered the highest minimal amount one can deposit – $3000, live video chat services, 100% bonus to the clients, master class, fist three trades are risk free, Demo account, Trading protection, Swiss prepaid card, individual success manager.
Additionally, the bonus awarded to the clients counts as additional deposits hence increasing the amount you have deposited. Binary options provide a feature of a very handy sliding which projects the amount of bonus they will earn varying on their deposits.
Our BinaryMate Gallery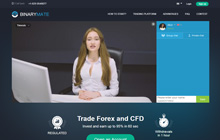 BinaryMate Homepage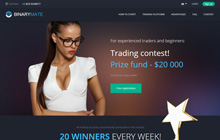 $20 000 Trading Contest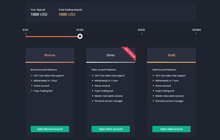 Account Types
Deposits and Withdrawals
$250 is the minimal amount you can deposit to open a BinaryMate account; additionally, the maximum amount of money you can make to your account is $50,000. While trading, your amount should not exceed $1,500 as well not less than $1. Effective deposits can be completed using Visa/MasterCard credit cards, direct bank transfer, Neteller, PayPal, debit cards as well as other means which are legal.
Despite the fact that the Binary Mate platform quick processing of their client's withdrawals wick is completed within one hour, the process is tested and guaranteed on its effectiveness on withdrawal hitches.
Support Techniques
BinaryMate support to its clients is always available as well as easy to obtain. Clients can contact them any day, any hour of the week. There are various techniques which Binary Mate use for you to obtain their help. There is an ideal method where BinaryMate offer their support whereby, they rapidly post questions on the broker's website to get different responses promptly from their clients. Also, there are six contacts which enable the client to obtain assistance over the telephone. Through this form, clients get assistance through different languages. Lastly, the chief technique to support their clients is through live video chats. This broker possesses a functional social media websites hence can be followed.
Conclusion
BinaryMate is a modern platform with a short trading history, but it has been doing so well in the market. Despite its short history, it has launched sophisticated platform providing features that no other broker does. Live video support along with short and quick withdrawals has helped Binary Mate to stand in the competition. Their account types are comprehensible to even the beginner traders as they enable their clients to trade with as low as $1 which is a guarantee as it is quite risky to start with much of your funds.
Other Popular Binary Options Broker Reviews