24Option Forex Review is Not Verified – Choose from our Reliable Forex Brokers
24Option is a leading and highly secure CFD trading platform. They use the latest technology to ensure complete security and peace of mind to the clients. 24Option stresses a lot on educating their clients and thus provides rich resources like seminars, webinars, daily news and analysis, etc. 24Options provides you a highly intuitive and secure platform to invest in the markets. They provide you more than 100 tradeable assets and unlimited market access. You get excellent customer support from 24Option round the clock.
Types of Accounts
There are 4 different types of 24Option accounts available which are as follows:
Basic Account
This account provides 1 basic lesson and 2 daily TC SMS alerts along with access to Trading Central. You are provided 1 free monthly withdrawal and 100% margin call. You don't get any webinars with the basic account. The floating spread available is EUR/USD 2.5 PIPS, GBP/USD 2.8 PIPS, USD/JPY 2.8 PIPS, and crude oil $0.13.
Gold Account
Gold account offers 2 basic lessons and 2 daily TC SMS alerts. You get access to Trading Central with daily news and 100% margin call. You also get 1 monthly webinar and 1 monthly free withdrawal. You are given floating spread of EUR/USD 2 PIPS, GBP/USD 2.5 PIPS, USD/JPY 2.5 PIPS, and crude oil $0.12.
Platinum Account
You get 3 advanced lessons and 2 monthly webinars with a platinum account. In addition, you also get access to Trading Central, 4 daily TC SMS alerts, 100% margin call, and 3 free monthly withdrawals. The floating spread are EUR /USD 1.6 PIPS, GBP/USD 1.9 PIPS, USD/JPY 1.9 PIPS, and crude oil $01.11.
VIP Account
VIP account is the most premium offering from 24Option providing you 5 advanced lessons and 5 monthly webinars. It also provides Trading Central and 7 daily TC SMS alerts. You get 100% margin call and all your withdrawals are free. The floating spread are EUR /USD 1.1 PIPS, GBP/USD 1.4 PIPS, USD/JPY 1.4 PIPS, and crude oil $01.09
Our 24Option Forex Gallery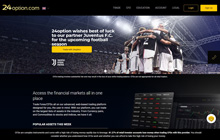 Homepage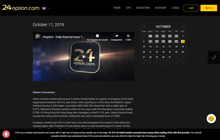 Daily Market Report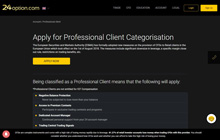 Professional Client
Deposits
Depositing funds into your 24Option account is very convenient and secure. They provide you state-of-the-art safety features which keep your transactions secure. The entire process of depositing fund is intuitive and takes only a few minutes to complete. You will be notified once the process of deposit is successfully completed or if there were any issues during the fund deposition process. You also get flexibility for depositing funds as there are a number of ways for doing it. You can deposit the funds by using credit cards, do electronic payment through a Skrill account, or even choose to wire transfer from your bank.
You can choose to deposit different types of currencies while using 24Option. You need to specify the currency types during the registration process on 24Option. You can choose between US Dollar, British Pound, Euro, Japanese Yen, and Ruble. You can also use multiple currencies for one account. You should note that cash deposits are not accepted by 24Option.
When depositing funds, 24Option requires you to do a minimum deposit. The minimum deposit amount varies according to the channel used. The minimum deposit amount is $250/€250/£250 if the deposit is being made by credit card or Skrill account. In case of wire transfer, the minimum deposit amount is $1,000/€1,000/£1,000. The daily limit for maximum deposit amount for deposits made by credit card is $10,000/€10,000/£10,000/¥100,000. The monthly maximum deposit amount limit is capped at $40,000/€40,000/£40,000/¥4,000,000. You may be requested ID proofs for security reasons.
If the deposit has been made using credit card or electronic payment, then your account will be credited with the deposit immediately once the deposit has been received by 24Option. In case you have made the deposit using bank wire transfer, then it may take up to 5 business days for the funds to be credited to your 24Option account.
Withdrawals
Withdrawals from your 24Option account is easy provided you have all your documentation completed and updated before you make a withdrawal request. You will have to follow the below-mentioned verification process:
Providing photo ID- passport, driver's license, any government-issued national identity card, etc.
Proof of residence which confirms that you are resident of a country accepted by 24Option. Documents which can be provided as proof of residence include bank or credit card statement, recent utility bills, government-issued documents not more than 6 months old.
You should fill the questionnaire and ensure all the answers provided are correct and complete.
You need to verify your payment method. When using credit card, you should share the picture of both sides of the credit card being used clearly displaying information like last four digits of the card number, expiry date, name, etc.
Once you complete the documentation and your account is verified, you can log into your 24Option account for making withdrawals. You need to follow the process mentioned below for making withdrawals:
Fill the information sought, including the withdrawal amount.
Click on send. Once your withdrawal request is received, 24Option will start the process on the next business day. Business days include Monday to Friday.
Payment Methods and Fees
You can withdrawals from your 24Option account using wire transfers or online payment systems. Due to security reasons, when you use a new payment method for the first time, you will be required to follow all of the above-mentioned verification processes. Till you complete the verification process with all the required documents, you will be unable to go ahead with the withdrawal process. For withdrawals through wire, you will be required to provide the complete details of your bank account.
The withdrawal fees and charges vary for different account types. If you are a VIP account holder, then all transactions are free for you. Platinum account holders are provided 3 free monthly withdrawals. Basic account holders can make 1 monthly free withdrawal and all withdrawals afterward will be charged. If you withdraw using credit card, Skrill, or Neteller, you will be paying a fee of 3.5%. Wire transfers are charged at $30/£20/€24.
Withdrawal Limits
There are no minimum withdrawal limits if you use credit card, Skrill, or Neteller for withdrawals. However, in case of bank wire transfers, the minimum withdrawal limit is $120/£80/€100. The upper limit for withdrawal is fixed at the balance available in your account.
Overall Conclusion
24Option is one of the best and perfectly designed online Forex trading platforms which can be accessed either on the website or through mobile devices. This platform is ideal for expert traders as well as beginners. Traders who use 24Option are assured of smooth navigation and hassle-free trading. This online Forex broker is known for its efficient customer support. Traders can get updates of daily financial news on the company's twitter feed. Apart from live webinars, they also offer a range of educational videos.
Other Popular Forex Broker Reviews