Xtrade Review is Not Verified – Choose from our Reliable Forex Brokers
Xtrade is an online trading system that is registered in 21 different countries in Europe. It specializes in Forex and CFD and is authorized to operate by the Cyprus Securities and Exchange Commission. The company operates in Europe with the Xtrade Europe Limited.
Types of Accounts
There are two ways to register to the Xtrade platform. You can opt for an account in demo mode or a real money account. The demo mode allows you to trade with information taken from the real Forex market. That way you can test your skills and get ready for the actual trading.
Besides the opportunity to learn, you will have access to unique promotions. If you start with a demo mode account, you can easily upgrade it. Then, enjoy up to $6,000 as a reward on your first deposit. It will depend on how much money you collected. Other rewards are $20 for phone verification, $120 to celebrate your first trade and $30 for your account verification. Currently, you can also participate in a contest to watch Rolando in Madrid. You just need to make five trades, and you are in for the competition.
Software Overview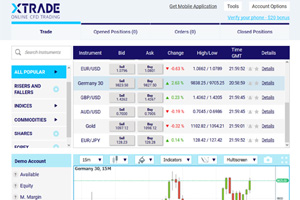 The software of the Xtrade Forex Broker is embedded to their website. To access you just need an internet connection and the username and password you created when you opened your account. Once you are on the platform, you still have access to the Xtrade tools to help you in the trading process.
Once you have an account, you can also use the mobile apps. There is an app for iPhone, iPad, Windows phones, Android phones, and Android tablets.
When you want to also trade shares, index, commodities, ETFs or CFDs, you can use the same platform you use for Forex. That way you don't need to have multiple accounts on different brokers. It also will help you to make a better use of your funds. You can clearly see all the options for trading, as well as your current and past trades. That way you can keep track of all the movements to your account.
To practice, you can still use the demo account. However, once you start trading, you will regret your wins when you are in demo mode.
Our Xtrade Forex Gallery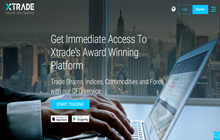 Xtrade Homepage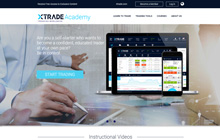 Forex Academy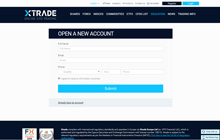 Xtrade Demo Account
Deposits and Withdrawal Services
The universally accepted payment methods are Visa and MasterCard. Depending on your country you have other options. Xtrade accepts over 60 different banks and money services to make deposits or withdraws.
Each option you may use has a limit per transaction. There are also restrictions depending on your country. You can filter by country to decide which is the best option, depending from where you are. As for the time, it depends on your preferred method.
Customer Support
There is an international phone number for customer support. You can call to solve any issue. When you are fonder of chatting, there is an online chat on their web page.
If you prefer to send an email, depending on your query there is a different email address you can use. For customer support just use support@xtrade.com. If you have issues with financial and billing, marketing, or affiliates, then there is another email for you. General queries are done for those who are not clients. If you need to raise a complaint, there is the email compliance@xtrade.com.
Safety and Regulation
Xtrade is fully compliant across Europe. It is registered with:
The United Kingdom at the FCA. France at the Banque de France. Spain at the CNMV. Italy at the CONSOB. Denmark at the Danish FSA. Poland at the PFSA. Sweden at the FI. Netherlands at the AFM. Liechtenstein at the FMA. Luxembourg at the CSSF. Slovakia at the NBS. Lithuania at the LSC. Slovenia at the SMA. Estonia at the Financial Supervision Authority. Bulgaria at the FSC. The Czech Republic at the CNB. Finland at the FIN-FSA. Portugal at the CMVM. Austrian at the Austrian FMA. Hungarian at the MNB.
Overall Conclusion
Xtrade is an excellent way to start trading with their Demo Mode. You can create an account to trade Forex without investing real money. Make use of the training material and then, start trading online. It is registered with many different regulatory organisms in Europe. It gives you reassurance that your capital and investments are safe.
When you want to trade something else besides Forex, Xtrade is an excellent choice; because there are other trades, you can do using the same platform. Besides, it has a mobile app compatible with Windows phone, which is something few online brokers have.
Other Popular Forex Broker Reviews