Markets.com Review is Not Verified – Choose from our Reliable Forex Brokers
Like other online brokers, Markets.com is authorized to trade by the CySEC (Cyprus Securities and Exchange Commission) and the FSB (Financial Services Board) for South Africa. Current regulations don't permit people from Belgium, Canada, Japan, and the United States to trade using the markets.com platform.
Types of Accounts
There is a universal account at Markets.com. To set your trading account is easy. You can do it via the website or with the app for mobile devices. No matter where you open your account, it will work to trade on both platforms. There are other rewards which are given to you as you reach the trading goals.
Software Overview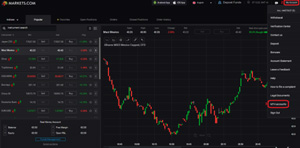 The software has everything you need on a single screen. It is part of the web page, and you don't need to install something additional to your computer.
When you use the software on a mobile device, then you have to look for the app. It is compatible with iOS and Android.
All the trading options you have on the online site are available for the mobile app. For training, there is the Education portal at Markets.com. You can know everything about trading Forex and other commodities in there.
If you are new to the trading market, then Markets.com has some basic training. Go to the trading basics and fundamental analysis before you start. You can further learn with webinars, where you can find the best schedule for you to find out more about online trading.
There is a particular site to study how to trade Forex. You can start by learning what is Forex and review some examples. Then, there is a complete list of all Forex market players. That way you can know the insights of Forex trading.
Besides Forex, you can also trade shares, commodities, CFD and EFT. To learn more about these trading options, the online training at Markets.com has information too.
Our Markets.com Forex Gallery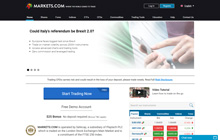 Markets.com Homepage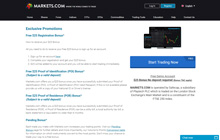 Promotions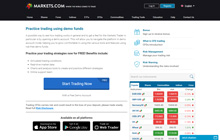 Markets.com Demo Account
Deposits and Withdrawal Services
To make deposits to your account and start trading there are many options. You may transfer money via a wire transfer, web money or your credit card. In some places, there are also local payment options.
Markets.com doesn't charge you any fee for your deposits. However, some banks may charge you for making wire transfers. The easiest way to deposit is using your credit card. The another problem with wire transfers is that they take time. You may have to wait around a week to get your transfer ready.
The withdraw process is similar to the deposit. When you ask to withdraw the funds, they are returned to the same account where they were originally submitted. You have to pass through some verification before you can do this. Part of it is sending a valid ID via your registered email. Depending on your country you may be asked for another document. The information is used to keep you safe, and to verify your identity. Nobody outside Markets.com has access to the information.
Customer Support
There is a representative available 24 hours from Monday to Friday. You can choose to ask the trading desk dialing a local phone number in your country. Some people prefer talking to somebody over the phone.
If you choose to use your internet connection to ask for help, then you have two options: you can use the online form or the live chat. The online form will generate a ticket, and you will be contacted at the email address you've posted. The most common queries are listed, so that the customer support department can better address your issues. The online chat is better when you expect a faster communication.
Safety and Regulation
Markets.com operates under the legal name of Safecap Investments Ltd. The CySEC license number for Safecap is 092/08. The FSB has granted Safecap the license number 43906 to be an Authorized Financial Services Provider. The website markets.com is a trademark. Both the brand Markets.com and the Safecap company are owned by Markets Limited, who is based in London.
Overall Conclusion
Markets.com is not just an easy to use the online platform to trade Forex. You can also trade other commodities. For beginners, it is a good choice because it has a lot of training material. You can learn from the basics to advanced technical analysis online. You can take advantage of the forex bonuses, and there is online support for a telephone line for practically every country you can trade.
Other Popular Forex Broker Reviews
*Trading CFDs involves a significant risk of loss and is not suitable for all investors!