OINVEST Forex Review is Not Verified – Choose from our Reliable Forex Brokers
OINVEST is a brand of Aronex Corporation Ltd, which is a company incorporated in Seychelles and regulated by the Financial Services Authority (FSA), Seychelles. You get the option to trade in more than 350 instruments while trading on OINVEST. They have a team of professionals and dedicated team working to provide you the best online trading experience.
Types of Accounts
OINVEST provides different types of accounts based on the trading experience and expertise of traders. The details of the different trading accounts offered by them are as follows:
Silver Account
Silver account is the entry-level and most basic account type offered by OINVEST. This account type is suited for beginners who are just starting out with trading and can develop their trading skills gradually. With the OINVEST silver account you get EUR/USD spread of 2.8. The GBP/USD and USD/JPY spread offered is 2.8 and 2.3 respectively. Gold spread is 0.59 and crude oil spread offered is 0.07. If you trade in forex, then the leverage is 1:200. You get 24/5 customer support, fifth decimal, hedging, and the option of choosing an Islamic account with the silver account type of OINVEST. The withdrawal process takes up to 7 days with this account type.
Gold Account
The gold account is the intermediate and next higher offering from OINVEST. This account type is designed for intermediate traders, who have acquired the basic skills and knowledge of trading and are on their way to becoming professional traders. The EUR/USD spread with this account is 1.3. You get GBP/USD spread of 2 and USD/JPY spread of 1.5 with the gold account. The gold spread is 0.48 and crude oil spread is 0.05. In addition to all the features of the silver account, you get dedicated account manager, webinars and videos, and a swap discount of 25% with the gold account type of OINVEST.
Platinum Account
The platinum account type is the premium flagship account offered by OINVEST. The platinum account is specifically designed for professional and seasoned traders who have detailed knowledge and experience on trading. On opening a platinum account, you get EUR/USD spread of 0.7. The GBP/USD spread is 1.3 and USD/JPY spread is 0.8. You get gold and crude oil spread of 0.37 and 0.03 respectively with this account type. On opening a platinum account, you get all the features provided with the gold account, and news alerts and free VPS as add on. You also get swap discount of 50% with the platinum account.
Our OINVEST Forex Gallery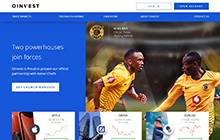 Homepage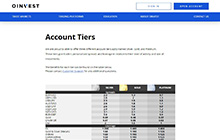 Promotions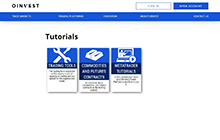 Tutorials
Deposit Rules
The deposit process in your OINVEST account is simple and hassle-free. You get multiple options to complete your deposit. The deposit can be made using credit/debit card, bank wire transfer, or e-wallets. If you are making the deposit using credit/debit card, you need to provide the photograph of front and back of the card showing all 4 corners of the card. You should ensure that the first 12 digits of your credit/debit card is covered in the photograph and only the last 4 digits are shown.
For deposits made through bank wire transfers, you should submit the confirmation of deposit through wire transfer along with your bank statement. If you deposit the amount through e-wallets, then you should provide details like your name, date of transfer, amount of transfer, destination of deposit, etc. Your account will start reflecting the funds as soon as they are received by OINVEST.
Withdrawal Rules
The withdrawal request can only be submitted online through the client area on the OINVEST website. Withdrawal can be made up to the balance amount in your account. The funds can only be withdrawn to your bank account and not to any third-party's bank account. While submitting your bank details, you must ensure that your name in the OINVEST account must match with your name in the bank account. The minimum withdrawal amount is $100. You may be charged a withdrawal fee of up to €50, if there is insignificant or no activity in your account prior to submitting the withdrawal request. All withdrawal requests are processed within 7 business days by OINVEST.
Why Choose OINVEST?
OINVEST is a popular online trading service provider among customers. Some of the key reasons for their popularity and why you should choose them are discussed below:
Excellent Trading Platforms
OINVEST uses WebTrader and MetaTrader as their trading platforms. Both platforms are award-winning platforms and provide a seamless end-user trading experience. WebTrader is the state-of-the-art web-based online trading platform which provides you complete access to the market action. You get detailed analytical tools like live analysis and charts, visual trends, demo account etc. to improve your trading skills and make successful trades. MetaTrader is one of the leading downloadable trading platforms globally. You get access to technical analysis, easy execution orders, and one-click trading with MetaTrader platform.
In addition to these trading platforms, you also get access to the OINVEST mobile trading app. You can access the market from anywhere and trade on the go with their mobile app.
Dedicated and Rich Learning Tools
OINVEST emphasizes client learning and education as a key component of their business. You are provided access to dedicated and rich learning tools. You can improve your trading skills by accessing webinars, seminars, videos on demand, news, articles, eBooks, etc. which are available on the OINVEST. As you improve your trading skills, you can execute better trades and become a successful trader. This also provides you with an opportunity to maximize your profits from trading.
Safety of Funds
You get complete peace of mind regarding the safety of your funds when you trade with OINVEST. They maintain your funds in a separate account from their regular business funds. Your funds are maintained with top banking and financial institutions to ensure that your money will be safe. Along with maintaining separate bank accounts for your funds, OINVEST also uses the latest technology and security protocols to ensure safety of your hard-earned money. All transactions on their servers are encrypted to prevent leakage of any sensitive information. They use the latest firewalls and advanced secure sockets layer (SSL) to encrypt all data transmissions.
Other Popular Forex Broker Reviews